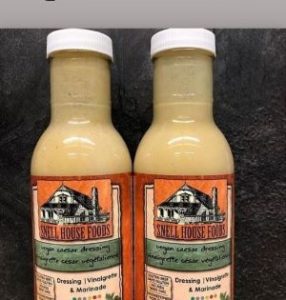 T
he original Classic Garlic has been so wildly popular, we realized we needed to create a vegan version without the egg. It took a lot of experimenting and we succeeded. Our vegan (and some non-vegan) customers tell us it's the best vegan Caesar they have ever tasted. It
is thick and creamy with the perfect garlic and lemon combination. Nutritional yeast gives it that cheesy flavour that makes Caesar dressing taste so good.
While it is ideal on salads and raw vegetables its real garlic bite goes great on chicken, pork and fish, steamed vegetables, pasta, rice and roasted potatoes. 
Sunflower oil, distilled white vinegar, granulated garlic, fresh garlic, fresh lemon juice,
nutritional yeast, sea salt, herbs, spices
Talking About Vegan Caesar
You were absolutely right! You're garlic balsamic dressing is a huge hit with me. I've emptied this jar already! I'm amazed how versatile this dressing is. I've used it on so many of my dishes which led me to running out.

Natalie

In this week's CSA allotment from Rochon Gardens we received your Garlic salad dressing….and I have to tell you, that in the past 3 days we have already used up half a bottle. What a great accompaniment to the fresh greens and veg from our allotment. Gee this stuff is amazing!!! I am so glad this was included in our "Eggs and More" and I look forward to purchasing more

Karen

[…] a great find from Snell Foods! This is the first time I have tried their Salad Dressing, I bought their Garlic Balsamic Vinaigrette and paired it with the Roasted Root Vegetable recipe […] www.almostrawvegan.com https://www.facebook.com/almostrawvegan

I attended the Perth Garlic Festival and fell in love with  your garlic sauce.  Unfortunately, I only bought 1 bottle and left for the United States.  Waiting a year to acquire another would be terrible.