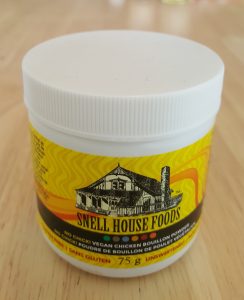 N
oChick! is a vegan bouillon powder that tastes just like chicken soup. I has no artificial flavours, colour, or additives of any kind and is also gluten free and unsweetened. Use it in any recipe that calls for meat or vegetable stock. It also makes a quick easy gravy or seasoning for potatoes, rice, pasta and vegetables. Nutritional yeast, as a primary ingredient, makes this an excellent and high natural source of essential B Vitamins.
You don't have to be vegan to love this all natural bouillon – it's just that good!
Nutritional yeast, sea salt, onion powder, dried lemon peel, dried herbs and spices.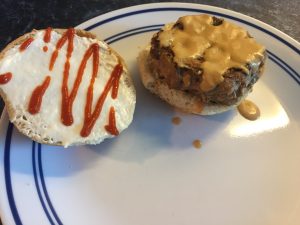 NoChick! Vegan bouillon Recipes
Talking About NoChick! Vegan bouillon
In this week's CSA allotment from Rochon Gardens we received your Garlic salad dressing….and I have to tell you, that in the past 3 days we have already used up half a bottle. What a great accompaniment to the fresh greens and veg from our allotment. Gee this stuff is amazing!!! I am so glad this was included in our "Eggs and More" and I look forward to purchasing more

Karen

I thought that I would take a moment to pass along my appreciation for the amazing garlic salsa that I purchased from you, as it was so good, that I completely devoured the entire jar myself, within a week! It was amazing! I do eat lots of salsa anyway, however I couldn't stay away from that jar...... So keep up the great work!! I've checked out your website, and know where more of this delicious garlic salsa can be purchased, and I certainly plan to purchase more, for sure.

Susan

[…] a great find from Snell Foods! This is the first time I have tried their Salad Dressing, I bought their Garlic Balsamic Vinaigrette and paired it with the Roasted Root Vegetable recipe […] www.almostrawvegan.com https://www.facebook.com/almostrawvegan

I attended the Perth Garlic Festival and fell in love with  your garlic sauce.  Unfortunately, I only bought 1 bottle and left for the United States.  Waiting a year to acquire another would be terrible.

You were absolutely right! You're garlic balsamic dressing is a huge hit with me. I've emptied this jar already! I'm amazed how versatile this dressing is. I've used it on so many of my dishes which led me to running out.

Natalie